Are you wondering if installing solar panels in your Brisbane home is worth the hassle and initial upfront cost? 3D Energy has done the research for you so you can easily get the answers to all your solar energy questions.
You can be satisfied knowing that installing solar panels anywhere in Brisbane will offset your energy costs while also reducing the environmental impact of your home. If you're still not convinced on installing solar panels in your Brisbane home – read on for a complete guide of the benefits, costs and everything in between on solar power systems. 
Is it worth getting solar panels in Brisbane?
Nestled aptly in the subtropical climate of Queensland, Brisbane receives on average 283 days of sunshine per year and an average of 5.1 Peak Sun Hours per day! This daily estimate of Peak Sun Hours means that roughly 27.7kWh of electricity can be generated per day by a 6.6kW solar power system or 60kWh per day for a 13.3kW solar power system – sufficient energy to run the common household. Solar production varies with the different months of the year.
The key benefits:
Power bills fall by up to 70%

You can be paid for the power you don't utilise

Considerable solar rebates for a 6.6kW and 13.3kW solar systems

Feel satisfied knowing you are generating a clean and renewable resource

Have a battery ready solar system 

3-5 year return on investment
How many homes have solar in Brisbane?
Brisbane has one of the highest rates of installed solar panels of any Australian capital cities with more than 40% of households with an operating solar panel system. Data from Australia's Clean Energy Regulator states that 70% of homes in Burbank and Redland Bay have installed solar panels. 
What are the different types of solar battery systems in Brisbane?
Solar batteries are used for storing electricity for solar power systems. There are four main types of solar battery systems that are used in homes all over Brisbane and beyond. 
Lead acid
These dependable battery systems have been switching Brisbane homes to solar for decades. Though with every piece of technology, more efficient versions with affordable prices are becoming more popular so Lead acid battery storage systems are becoming less common. 
Lithium-ion
Lithium-ion or Li-ion batteries are currently the most prominent type for solar battery storage thanks to the electric car industry being the driving force behind its development. The majority of major battery manufacturers in the solar industry manufacture these types of batteries for residential and commercial use so they are very common. 
Flow
Flow batteries have a water based solution of zinc-bromide on the inside. As they are somewhat of a new appearance in the battery storage sector, there are only a handful of companies producing flow batteries for commercial and residential use, they show a lot of promise however not very common at the moment. 
Sodium Nickel Chloride
A direct challenger to the lithium-ion technology, sodium nickel chloride delivers many advantages like safety and environmental thanks to its rare battery chemistry. This technology is however not very common in the residential battery storage space at the moment. 
How much do solar panels cost in Brisbane?
Australian solar system installation costs are one of the lowest in the world thanks to our generous rebate. A home solar panel system in Brisbane can range anywhere from $4,500 to $20,000 (price includes your solar rebate). There is such a discrepancy between the bottom of the range and highest because your quote will depend on factors such as quality of the solar panels and inverters, size and capability of the system as well as the reputation and reliability of the installation company.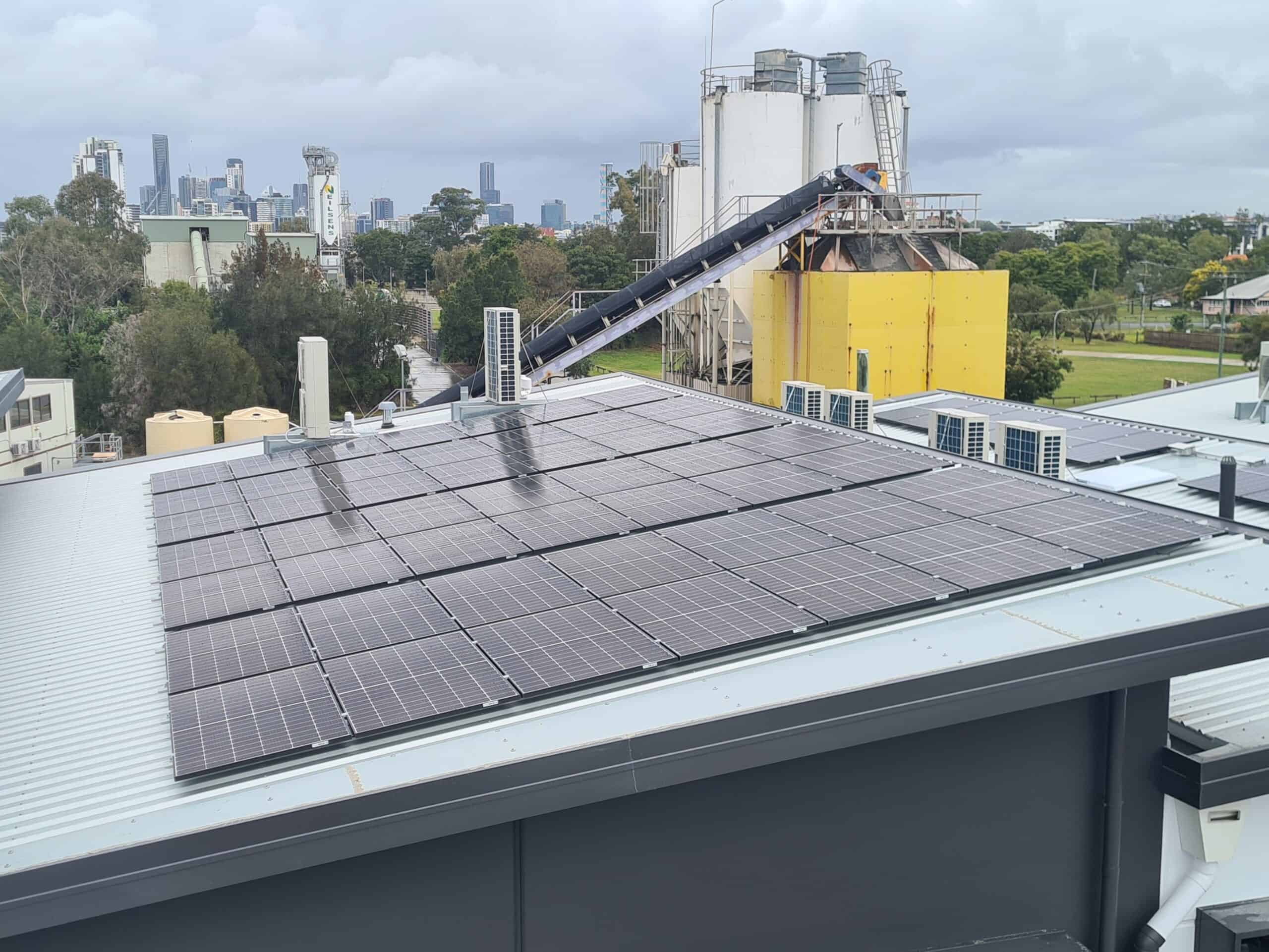 How to find the optimal solar system size for your Brisbane home?
To work out the best solar system size for your Brisbane home you will need to take into consideration your current households energy habits, future energy requirements such as EV charging, addition of air conditioning, spa, pool, pool heating, electric HWS, price and the available rooftop space. 
Household energy habits
The perfect solar system size for your Brisbane home will be one that closely aligns with your home's energy usage so that once installed, the system will cover the greater part of your electricity bill. 
One way to do this is to analyse your previous electricity bills throughout each season of the year, allow for any future loads and choose a solar panel system that has an estimated solar production to match the consumption.
Price
Price is a large determining factor when it comes to the size of your solar systems. Although solar systems are becoming more and more affordable, you will have to eventually settle on a budget. Follow this link for more information on how to save with solar panels.
Required space
Another key consideration for your solar system size is the amount of space available on your roof. Each solar panel in Australia requires 1.3m2 of space. This means you will need to decide on a solar system size that fits with the roof requirements. Installers for solar systems will typically take this into consideration when providing a quote. 
Queensland solar panel rebates and incentives
Federal government solar rebate
As a resident in Brisbane, you can receive a larger solar rebate than other states in Australia, because of the generous amount of sun your solar panels will receive. Your rebate could be up to $2,700 for a 6.6kW solar system or $5600 for a 13.3kW solar system. 
To be eligible for the rebate, you need your solar panel system to be installed by a Clean Energy Council accredited installer. The type of panels and inverter you install needs to also be approved by the Clean Energy Council. In addition, if you purchase a panel and battery system, the battery needs to be approved by the Clean Energy Council.
This rebate is immediately applied to the price as an upfront point of sale discount by your accredited installer and you do not need to claim it yourself. The federal government's rebate scheme essentially serves as a deduction on the cost of installing a solar PV system. 
Queensland feed-in tariffs
A feed-in tariff is how much you can be paid by your energy supplier for the excess energy that's not self-consumed by your house and is fed back into the grid. The amount you get paid will vary depending on your energy retailer, some are more generous than others. They can range anywhere from 5-8c for every kilowatt-hour (kWh) of energy your solar system feeds back into the grid.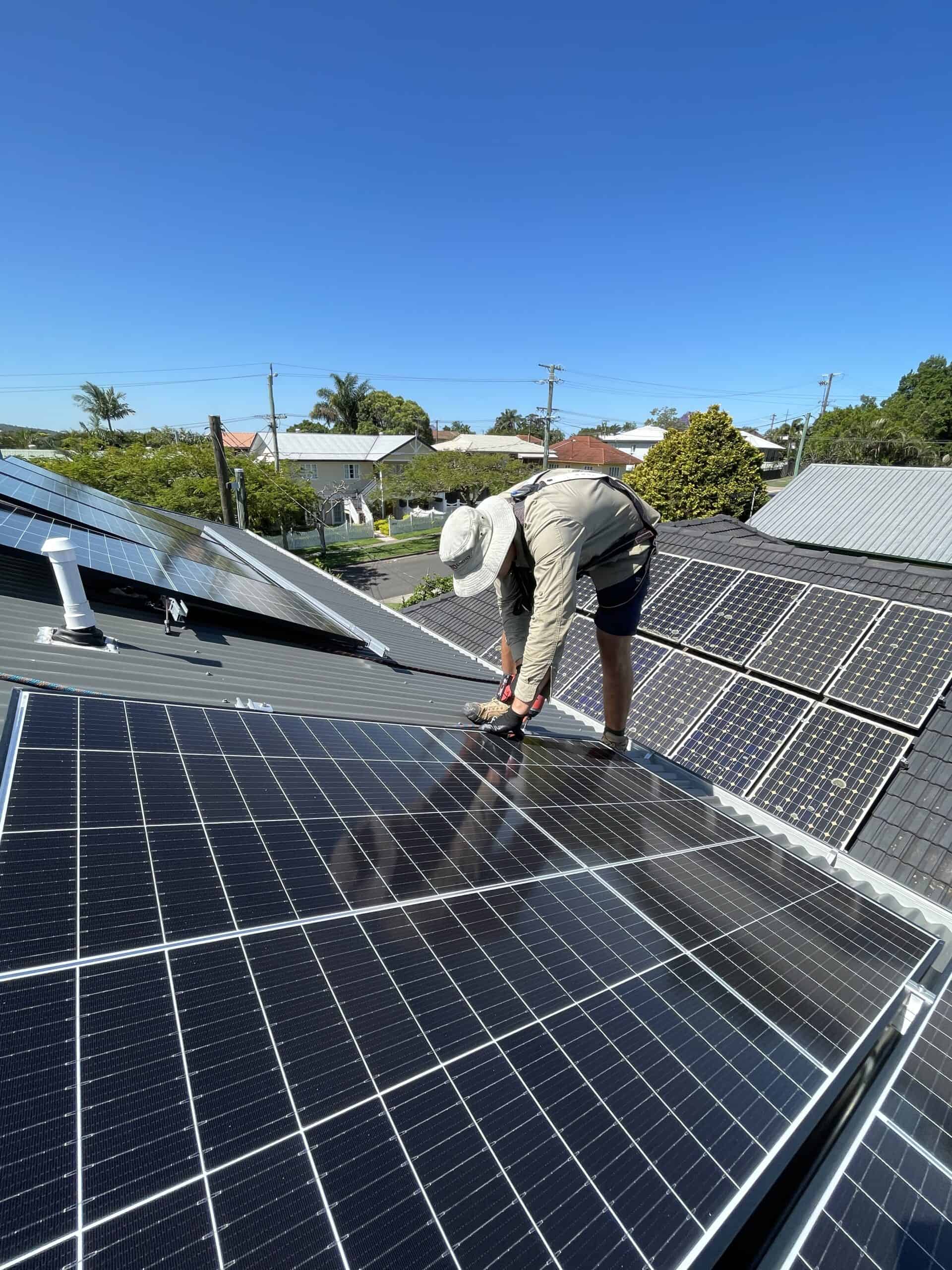 FAQs about solar power in Brisbane
What is the perfect solar panel tilt angle in Brisbane?
To capitalise on solar production all year round it is recommended to position the solar panels on a matching angle to the location of your property. In other words, the slope of your roof is typically the correct placement to install your solar panels. 
If your roof is flat there's no need to worry, tilt frames will be fixed by your chosen solar company to guarantee your solar panels are working optimally, for Brisbane the most advantageous angle is 27°. Alternatively it is possible to install a greater number of panels flush mounted on a flat roof to gain the added benefit of a larger system and greater solar production. These types of systems are typically installed where the roof space isn't large enough to allow for spacings in between tilted rows to avoid shading on panels or budget is a consideration. 
What is the ideal solar panel direction in Brisbane?
Although not widely talked about, the orientation of your solar panels can actually affect the volume of energy that is generated by your solar system. In Brisbane, solar panels facing north, according to a study conducted at the University of Queensland, will generate the highest volume of energy with the greatest yield at noon when the sun is at its highest point.
If installing a solar panel system orientated north is not an option for your Brisbane home, north-east or north-west facing solar panels will generate marginally less energy. In addition, east-west facing solar panel systems are rising in popularity as solar panel prices and feed-in tariff rates have declined. An east-west solar system starts to produce energy earlier in the day and continues until the late afternoon – keeping closely to the average families' energy usage patterns. So, even though the east-west facing solar power systems are generating less power on average, a greater volume of power is being self-consumed, an interesting asset.
Before you determine the elements that are most suited to your energy needs, you will need to acknowledge your familys' energy usage habits. If your house is vacant for most of the day, an east-west solar power position would be beneficial. 
At 3D Energy, we take in all your personal solar power concerns to determine the best system for your home. We can ensure that you receive high quality products that will meet all your future solar needs. 
Get in touch for a quote with solar installers that care and receive a quote today.